Omaker WoW Handsfree Smart Speakers
Wireless Multiroom Wifi Portable Bluetooth Speakers with Amazon Alexa voice control and Intelligent dialogue
Hands-free Wi-Fi and Bluetooth speaker powered by Linkplay technology and the Alexa Voice Service.
Do More for you: Amazon certified hands-free Alexa speakers, the speaker can play music, make calls, set timers and alarms, check traffic and weather, and sports, play audiobooks, radio stations, news briefs, control smart home devices, order a pizza, and more, it's exactly another smart device, it's a speaker , but not only a speaker;

A Real Friend for Your Family: Omaker WOW are Alexa speaker , he can talk to you and understand you . Your old parents feel alone? Your little child feel bored with his toys? You want to control the Smart Appliance in your home ? Omaker WOW is your proper choice;

High Quality Crystal Clear Sound: Streams high resolution audio (192khz/24bit; 44.1KHz/16bit) through dual 4W speakers, it process for crisp vocals and dynamic bass response, fill the room with 360° omnidirectional audio;

Wireless Bluetooth Speakers: Features to be connected via Wi-Fi and Bluetooth. Dual built-in high capacity batteries make sure Omaker WoW keep working up to 12 hours, wireless portable speakers help you enjoy music anywhere;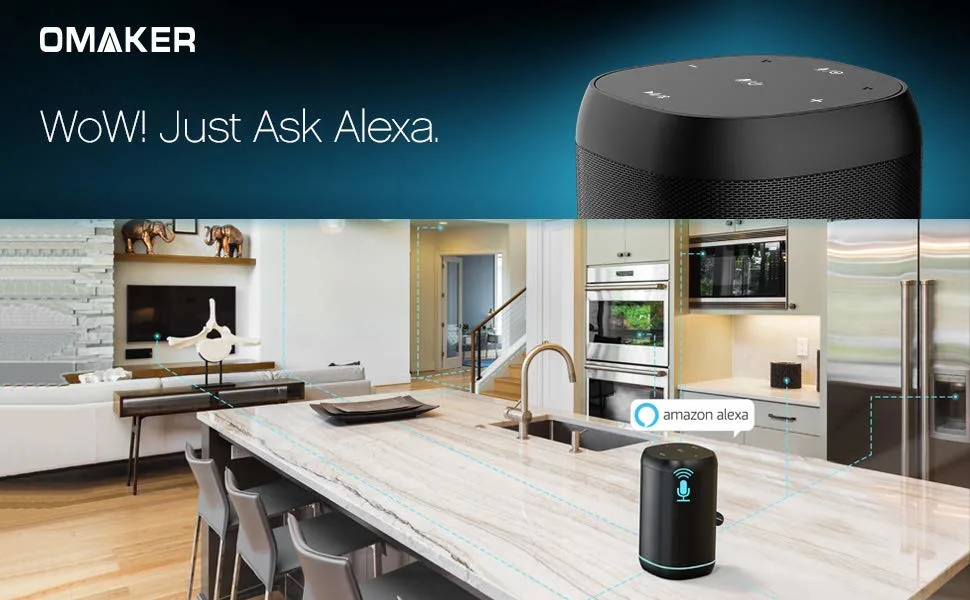 What is Omaker WoW?
Omaker WoW is a hands-free Wi-Fi and Bluetooth speaker with Powered by Linkplay technology and the Alexa Voice Service, enabling you to play millions of songs from popular streaming music services, pair multiple speakers for a whole-home audio experience, and access Amazon Alexa just by using your voice.
Just sign in to your customer account in the Omaker App to access personalized features and enable Alexa Skills.
When you ask WoW with the wake word "Alexa", it's blue led light ring will light up and respond to your voice requests instantly.


Play Music with Your Voice

With Alexa, the speaker provides hands-free voice control to various online music services such as TuneIn and iHeartRadio. You can search, play, and control music with just your voice. With its dual 4-watt acoustic drivers and frequency response of 50Hz-20KHz, WoW can stream loud and crystal clear stereo sound.

Multi-Room Music

Just imagine that all the rooms are filled with music, amzing isn't it?

Pair multiple WoW speakers together through the Omaker App, then you will
be free to switch from one to another or just let them play at the same time,
fiiling the whole house with amazing sound.


Ideal Company in the Home

Omaker WoW is here to help you in the home. Just Ask Alexa to set a timer, read the news, get the latest traffic to work, check sports scores of your favorite team, control your smart home devices, and more all without lifting a finger.

If you have more than one Omaker WoW, you can control them at the same time through the Omaker App. You can let two WoWs play together or switch from one to the other.


Free to Take it to Anywhere You Like

With its dual built-in battery, WoW can play up to 7 hours while connected to Wi-Fi or 12 hours while connected to Bluetooth on a charge. USB charging cable and power adapter are both included in the package.

You are able to use Alexa when connected to Wi-Fi, or when on the go, play any audio from your device by pairing via Bluetooth.

If you want to use Alexa in a place without Wi-Fi, you still can use it with a mobile hot spot.




Step 1: Install OMAKER App available on iOS or Android onto your device to set up and manage your Omaker WoW speaker. (Please search "eomaker alexa" or "wow alexa" in google play)
Step 2: Follow the instruction in the Omaker App and then connect to the Internet.
Really easy to set up and use!
Step 3: Just ask Alexa to play music and experience hands-free voice control. For additional instructions please refer to the user manual.


Product information
| | |
| --- | --- |
| Product Dimensions | 7.1 x 4.1 x 4.1 inches |
| Item Weight | 2.65 pounds |
| Shipping Weight | 3.6 pounds |
| Batteries | 2 Lithium ion batteries required. |
Specifications:

Power: 8W=4W*2
Full tone unit: 2" full-tone speaker * 2pcs
Source: WiFi, Bluetooth, AUX audio input, TF music playback
Control: buttons, APP (IOS, Android) and voice control
Indicator light: RGB LED
Power: DC 5V/1A, battery: 3.7V/4400mAh
Input / output interface: 3.5mm AUX in, MicroUSB interface, TF card
Product size: W105*H180*D110mm
Support Multiroom multi-room system networking, APP independent control adjustment
WiFi signal hotspot sharing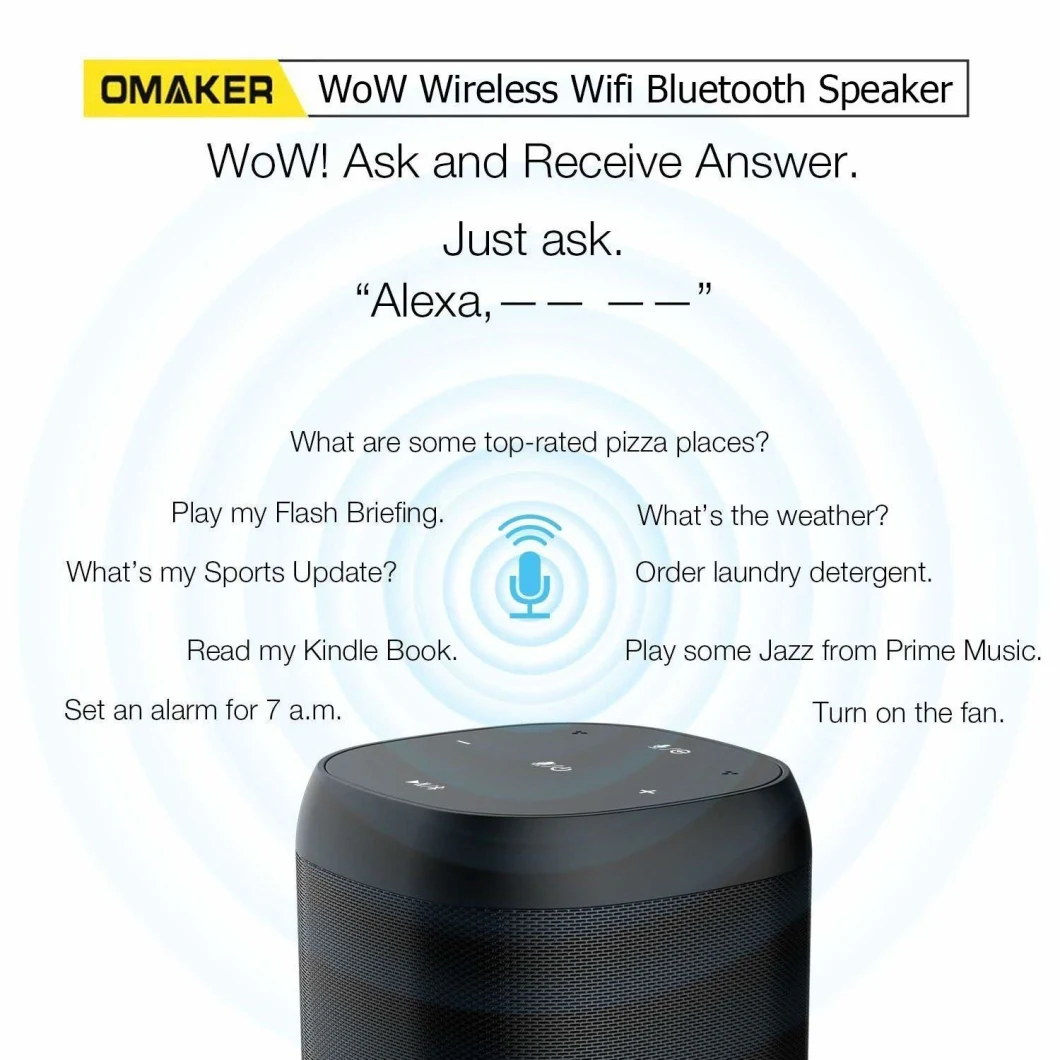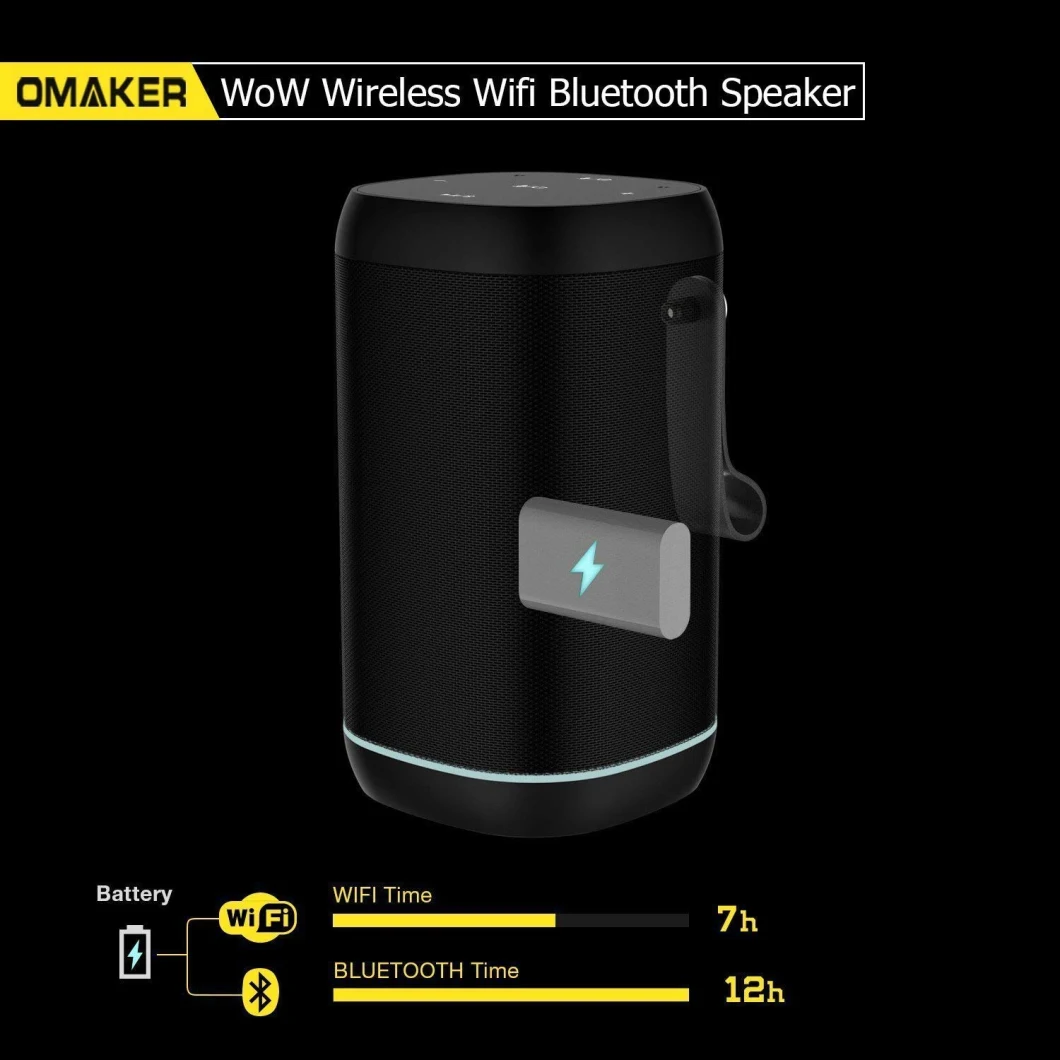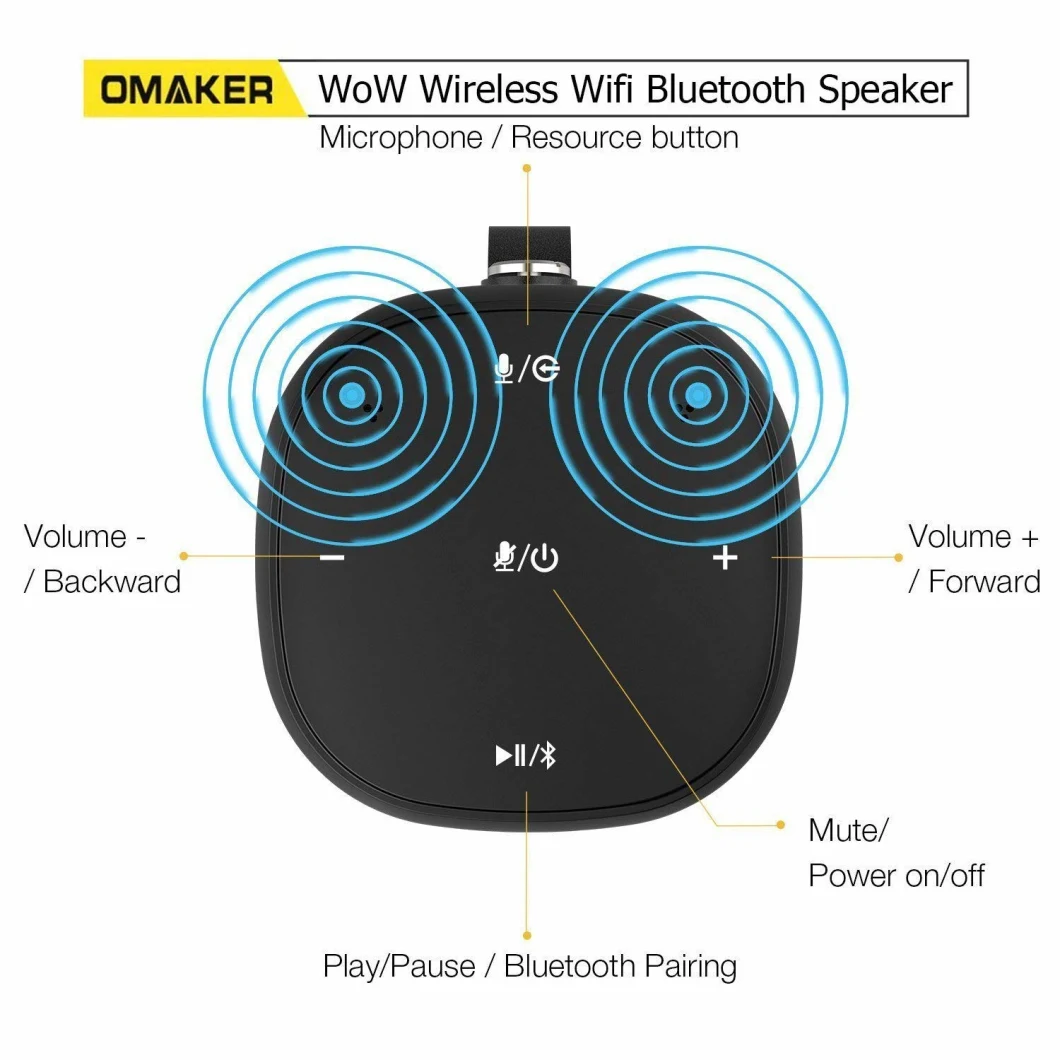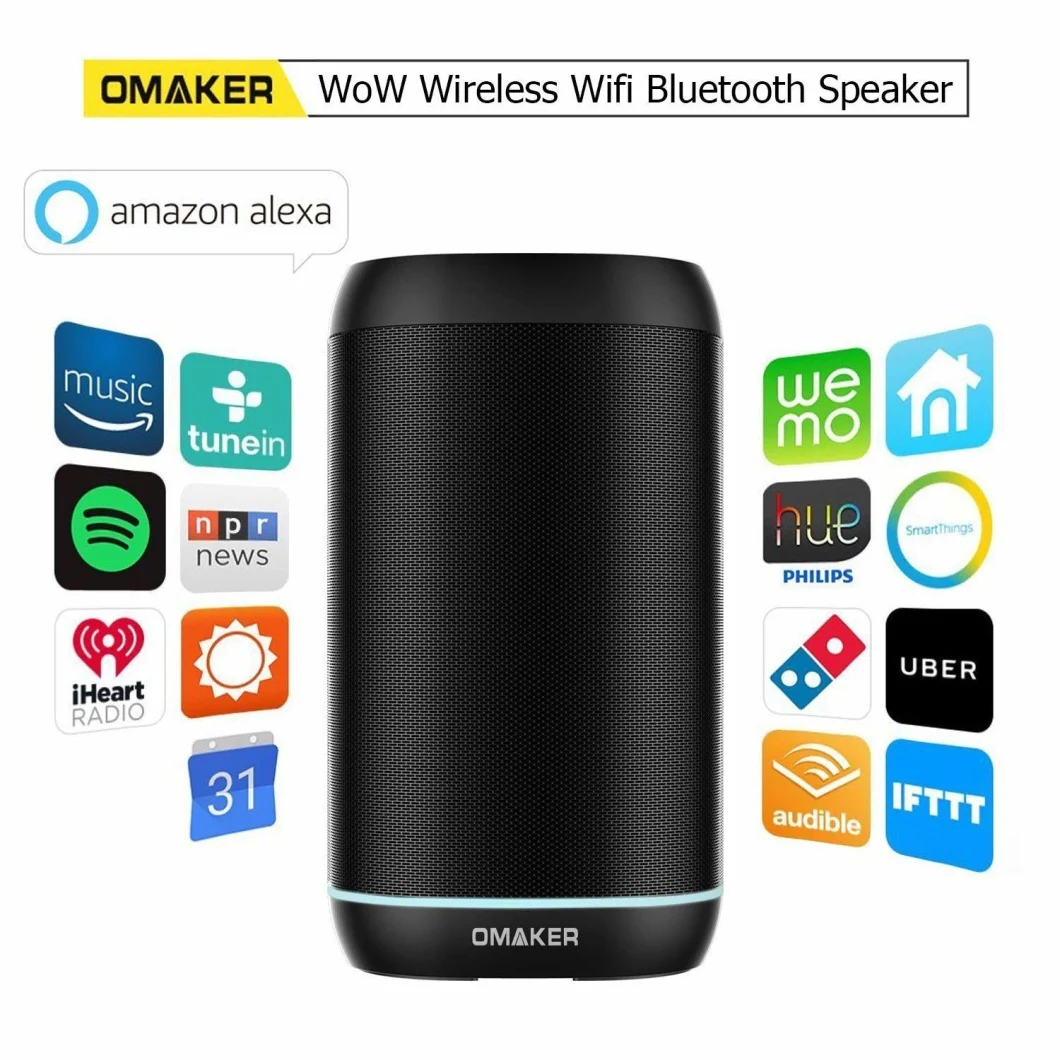 Top reviews on Amazon
5.0 out of 5 stars So far so good.
ByGalaxyon March 29, 2017
Color: blackVerified Purchase
So far so good. Alexa is very responsive even from 20 feet away. Sounds great for such a small unit. Still getting used to using Alexa and not having the kids go crazy telling Alexa what to do. Hah. Haven't used the Bluetooth feature yet and have not really used the app other than setup so I can not really say how it works. Customer service is great contacted them several times due to shipping delays while it was backordered. They were friendly and responsive. I hope to enjoy this product for years to come.
5 people found this helpful
5.0 out of 5 stars Alexa Loves to Travel Around the House! She's my New Bestie!
ByChris del ValleTop Contributor: Petson September 28, 2017
Color: ituuli blackVerified Purchase
Well, Well, Well. What do we have here? A portable bluetooth hi-quality sound speaker with built-in Alexa. Yes! Imagine taking Alexa to the backyard to play music or having a timer while doing exercises or Alexa telling you a cheesy joke as you barbecue? Maybe you like to relax in the bathtub after a long day and your Alexa horoscope called for some soft jazz? Now stop imagining. It's a real thing.
This Alexa enabled bluetooth Omaker WoW Wifi Speaker makes the my imagination my reality. I have to emphasize how cool it is the carry around this speaker. It's like when Luke carried around Yoda in Empire Strikes Back. I have a little buddy wherever I go. The limitation of the plug is the most annoying feature of the Amazon Echo. But now, Alexa is officially detached and mobile! We are now in a no cord zone!
You also have the option of running quality bluetooth sound at the beach, on a boat, or on a picnic with someone you love. It's easy to charge and easy to set up. It took me less than a minute using the Omaker app. My three favorite features of this speaker are obviously the Alexa, the full Hi-Fi sound and finally the ease to set up, charge and freedom to take it wherever! Being an audiophile and Alexa dependent, this is probably one of my favorite purchases of 2017.
4.0 out of 5 starsNice speaker with Amazon echo capabilities
ByTKon April 7, 2017
Color: blackVerified Purchase
I really like the echo dot I got last xmas and given I mainly use it for music streaming, I wanted to get another speaker with better audio quality. Although I've never heard of Omaker, I wanted to give this a try instead of paying $70 more for the big echo; so far I'm happy for the decision.
Here is my observation after using this speaker for almost 2 weeks.
Pros: 1. good audio quality with good bass 2. multi-room capability like the Sonos 3. TF memory card slot to play music locally 4. built in battery
Cons:1. lots room for improvement for the mobile app 2. lack of instructions 3. it's heavy
The speaker does not have the light ring like the echo, but it does have light indicators and overall performance is similar to my echo dot. I'd have given it a 5 star for the audio quality, the added multi-room feature, and overall alexa performance; however, I really wish the mobile app could be better.
4.0 out of 5 starsReasonable speaker and implementation of Alexa
ByScotsmanon February 2, 2018
Color: blackVerified Purchase
I was looking for an Alexa enabled speaker to try out and it was a toss up between this and the echo (2nd gen). Even paying $28.51 Shipping & Import Fees to the UK this was £20.00 cheaper than an echo so I thought why not? It took 10 days to travel from California to the Highlands of Scotland (pretty darned quick). The sound has a muffled quality and could be better. Alexa works OK, and overall this is a decent speaker for the price. All voice assistants seem to be trying the razor/razor-blade business model and tie you to a proprietary streaming service. We need someone to develop a voice assistant or app/skill that can access your own music collection.
Since getting this speaker I have bought an echo to control lights from different rooms in the house. The echo has marginally better sound but the WoW has portability. I am happy with both, so if you want to move it around get the WoW, if it will remain in one place the echo may be better, but for $20 less the WoW is great.
5.0 out of 5 starsAlexa, blue tooth, wired and SD card enabled speaker
Byrmjon April 3, 2017
Color: blackVerified Purchase
This is a nice battery powered or USB speaker with Alexa support in wifi. The app allows a connection to Spotify and other music sources in blue tooth mode. The device can connect to a audio source through a 3.5mm jack or it can access music on an SD card. I wish the app would support Pandora to round out my music needs. The power is enough for most normal sized rooms.
5.0 out of 5 stars Great alternative to the more expensive speakers. WiFi option sold me.
ByMarkon February 5, 2018
Color: ituuli blackVerified Purchase
Great alternative to the more expensive speakers.
Using any Bluetooth device drains my phone too fast so the WiFi capability is what sold me.. it can access my network directly.
Easy on-off, mute, volume control, great sound
4.0 out of 5 starsI love that it's portable
ByPaul D. Swartzon March 15, 2017
Color: blackVerified Purchase
I love that it's portable. I would have given 5 stars if they had better documentation, if I have to take the time to call the company to find out how to do something as simple as a factory reset, they don't get a 5th star.
5.0 out of 5 starsafter that all's good.
BySteven B Siskinon October 12, 2017
Color: blackVerified Purchase
Took some time to program, after that all's good.
5.0 out of 5 starsGood product. Still waiting to hear from Omaker about ...
Bywilliamon August 30, 2017
Color: blackVerified Purchase
Good product. Still waiting to hear from Omaker about directions that I lost.
5.0 out of 5 starsFive Stars
Byray cookon October 28, 2017
Color: blackVerified Purchase
Brought this for a gift
4.0 out of 5 starsGreat product. It is an Amazon Echo and cheaper
ByMike Tsengon March 19, 2017
Color: black
Great product. It is an Amazon Echo and cheaper, better sounding, portability and price makes it better than a Google Home. Will be better when they get Pandora and Spotify, which they say is coming soon. To find the app on Android you need to search for Omaker Alexa.